Quadro Clip Frames Overview
Classic borderless gallery picture frames.
Made (by us) in the USA.
Standard & Custom sizes from 4×4″ to 24×36″ +.
Ultra-secure, fully adjustable sliding clip system.
Display vertically or horizontally (portrait or landscape) .
Wall or tabletop display.
Materials
Backing Panels:
Backing panels are made of 3 mm. thick MDF (Medium Density Fiberboard) and meet the requirements of :
EPA TSCA Title VI
Toxic Substances Control Act (TSCA) Title VI – 40 CFR Part 770 –
Formaldehyde Standards for Composite Wood Products –
U.S. Environmental Protection Agency (EPA)
Backing panels are cut to size and can produced from 4×4″ to 24×36″ in 1/8″ size increments. Dimensional tolerance is nominally +/- 1/16″.
We can produce sizes larger than 24×36″ but this isn't typically recommended as the frames tend to become wobbly and unstable.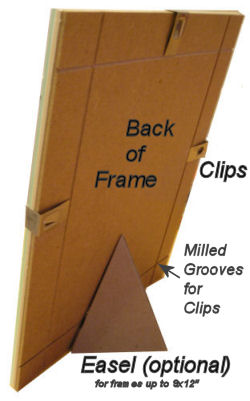 Quadro Clipframes feature an exclusive design where the clips snap into specialized grooves which are machined around the entire periphery of the back side of the backing panels. Any number of clips can be positioned anywhere around the frames allowing for complete flexibility over the layout as well as precise levelling control when hanging the frame. The frames are designed to hang from the cutout/opening in the back of any clip using a nail or screw.
Glazing Panels:
We offer a variety of glazing (front) panels to meet most requirements:
PET – Clear
Our standard plastic panel is a 1 mm. (0.040″) thick optically clear PET panel with a protective peel away film applied on both surfaces.
The film is applied by the raw panel manufacturer and can be opaque or colored. The film protects the relatively soft plastic surface from scratching and scuffing during production and shipping. It is intended to be remove just prior to using the frame.
[row]
[col span="1/4″]
[ux_image id="132832″ lightbox="1″]
[/col]
[col span="3/4″]
Components
Backs – 1/8″ Medium Density Fiberboard (MDF) smooth both sides.
Glazing Materials…

2mm. ground and polished edge glass.
0.035″ Optically clear styrene, peal-away protective film on both sides.

Clips – Nickel Plated Spring Steel

Visible from front approx. 3/32″ high x1/2″ wide.
Click on image for hi-res version (size is 250K)
[/col]
[/row]
[row]
[col span="1/4″]
[ux_image id="132833″ lightbox="1″]
[/col]
[col span="3/4″]
Availability
A huge selection of standard sizes from 4×6″ to 27×41″
Complete frames kits are offered in sizes from 4×6″ to 27×41″.

Frame kits are complete frames with backs, glazing panel (glass or plastic) and all hardware.
Click for details.

Custom sizes to 27×41″. Minimum quantities apply on custom sizes.
[/col]
[/row]
[row]
[col span="1/3″]
[ux_image id="132834″ lightbox="1″]
[/col]
[col span="1/3″]
[ux_image id="132835″ lightbox="1″]
[/col]
[col span="1/3″]
[ux_image id="132836″ lightbox="1″]
[/col]
[/row]