[row]
[col span="1/4″]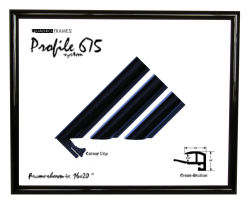 [/col]
[col span="3/4″]
Profile675 Framing System Description
Side loading moulding system with high precision miters.
Concealed corner clips produce perfect corner joints.
Assembles & dis-assembles in seconds – no tools required!
Multiple hanging options.
Multiple backing and glazing options.
Accepts bevel cut mattes.
Click on image for hi-res version (size is 250K)
[/col]
[/row]
[row]
[col span="1/4″]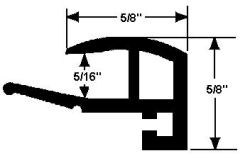 [/col]
[col span="3/4″]
Profile675 Moulding System Components
Mouldings

ABS plastic extrusion, foil film surface.
Precision machined miters and assembly interface.
This is a side-loading moulding system .

Inject molded, concealed corner clip assembly system (patented).
[/col]
[/row]
[row]
[col span="1/4″]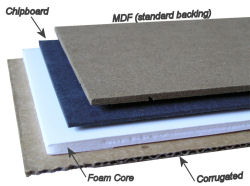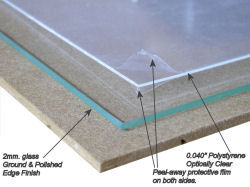 [/col]
[col span="3/4″]
Frame Components
Backs

1/8″ Medium Density Fiberboard (MDF) smooth both sides (standard).
Foam Core (optional)
Corrugated (optional)
Chipboard (optional)

Glazing Materials…

2mm. ground and polished edge glass.
0.035″ optically clear styrene, peal-away protective film on both sides.
acrylic (special order) .
[/col]
[/row]
[row]
[col span="1/4″]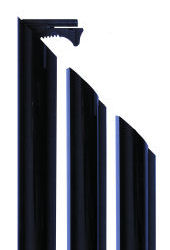 [/col]
[col span="3/4″]
Availability
Mouldings are currently stocked in the following formats…

Black : 11,14, 16,18, 20, 24, 27, 30, 36, 40, 41 "

Complete frames kits are offered in sizes from 11×14 " to 27×41″.

Frame kits are complete frames with mouldings, backs, glazing panel (glass or plastic) and all hardware.
Click for details.

Moulding kits are offered for all available sections.

Mix moulding lengths to make custom sizes (for example 14×30″ frames).
Moulding kits include all necessary assembly hardware but do not include backs or glass/plastic glazing panel.
Click for details.
Options
Frames display vertical or horizontal (portrait or landscape) .
Profile 675 frames are for wall display.
Secure wall mounting system is available.
System accepts standard 4 ply mattes .
Works with most backing materials

Foam core
Corrugated
Chipboard

Works with most glazing panels

Glass
Acrylic
Polystyrene
Laminates

Custom colors & finishes are possible in volume.
Contact us for a details or quote.
[/col]
[/row]